KUNINGGADING.COM – Amazing Free Premium Software and Plugins to WordPress Website CMS, WhatsApp Chat for WordPress plugins allows you to integrate your WhatsApp experience directly into your website.
This is one of the best way to connect and interact with your customers, you can offer support directly as well as build trust and increase customer loyalty.
WhatsApp Chat for WordPress
SUPPORT MULTIPLE ACCOUNTS
NinjaTeam WhatsApp Chat for WordPress plugin allows you to add multiple accounts of your members into a WhatsApp box to display. You customer can choose a supporter they want to chat, they know exactly who they are having a conversation.
EASILY CUSTOMIZE
NinjaTeam WhatsApp Chat plugin provides you options to select colors for the WhatsApp box to fit your website style and taste.
Moreover, you can customize each box for each person depending on their time availability with photo, name tag and job title.
When you are online, the button is green or other color you set, otherwise, it is grey.
Therefore, when you're not responding quickly, customers don't feel they are ignored.
They know exactly your available time in which you set it at the first place.
SUPPORT WPML
Is you site multi-language? Don't worry! You can use any WordPress translation plugins like WPML, Polylang to customize any languages on your site easily and quickly.
SHORTCODE INCLUDED
With shortcode from NinjaTeam WhatsApp Chat plugin, you can display the WhatsApp box anywhere on your site. It can be a page, a post, some particular pages, posts or the whole of your website.
WhatsApp Chat for WordPress Plugins Amazing
NO CODING REQUIRED
We took the hardest part of coding. We spent time on designing and making UI/UX as best as we can.
All you need to do is just uploading the plugin into WordPress, activating the plugin, customizing all the available options and Done!
Enjoy conversations with your customers anytime anywhere! It has never been easier, and stop losing your potential leads!
HOW IT WORKS
After installing the plugin, you have all settings in hand to customize a WhatsApp widget or button on your WordPress site by adding member accounts or support agents with phone numbers or group chat links.
The widget can be appeared on all pages or only desired pages you set.
Besides, you can also enable WhatsApp button under WooCommerce Add to cart button.
Each account has its own shortcode which you can copy and paste anywhere on your site to offer customer support.
Once a customer clicks on an account he wants to chat, he is then redirected to WhatsApp app if he is on mobile or WhatsApp web if he is on desktop.
WhatsApp Chat for WordPress Documentation
This is a step-by-step guide to the setup of the plugin WhatsApp Chat WordPress by Ninja Team.
Upload WhatsApp Chat plugin
In your WordPress dashboard, go to Menu Plugins > Add new > Upload Plugin > Upload the plugin zip file you downloaded from CodeCanyon page > Activate it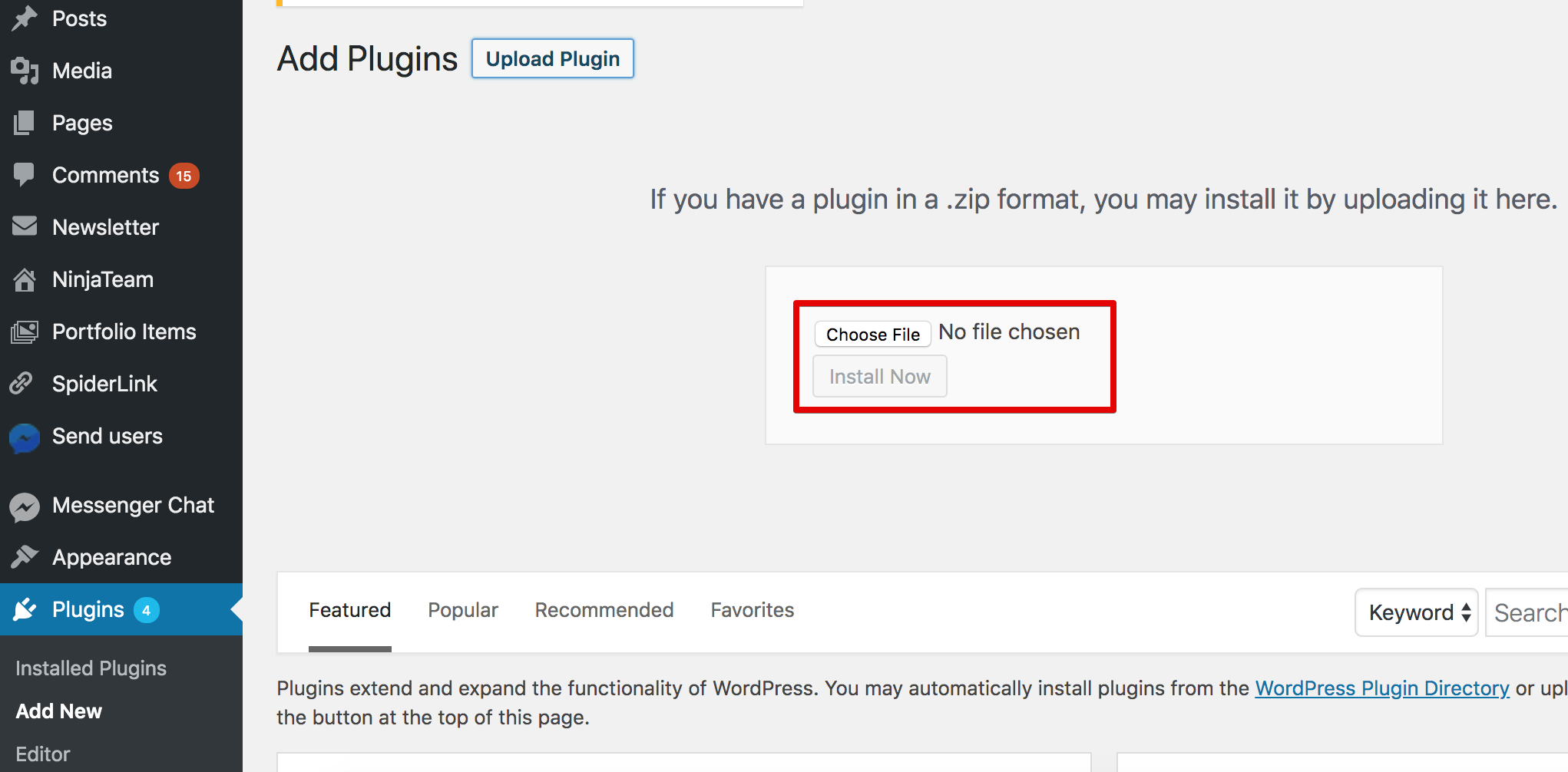 Configure WhatsApp Chat
In this article, we will go through 4 sections:
Add New Account
Floating Widget
WooCommerce Button settings
Analytics
WPML compatible
---
1. Add New Account / All accounts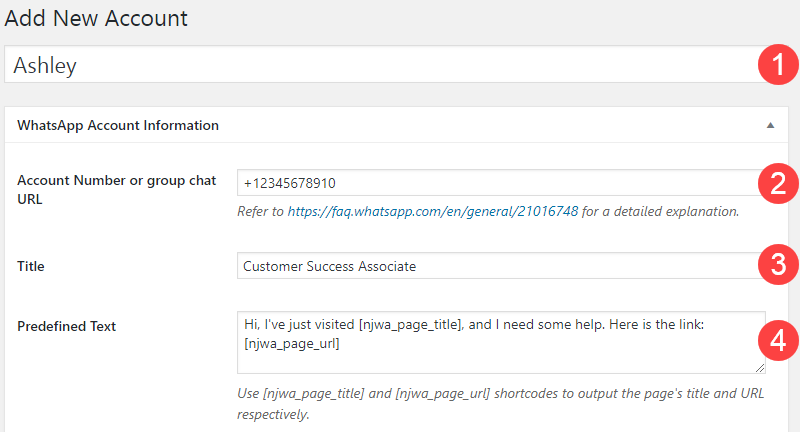 1. Account Name
The name of a staff/member, for example, Ashley, Jack, Jill, etc.
2. Account Number or Group Chat URL
3. Title
Their job title, for example, Customer Success Associate, Technical Support Engineer, Sales Associate, etc. This title is displayed in the floating widget.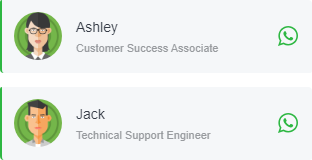 4. Predefined Text
This is the text message which is auto generated when your customer first chat with you.
For example, Hi, I've just visited [njwa_page_title], and I need some help. Here is the link: [njwa_page_url]. (Note: Do not enter any quotation mark in this field.)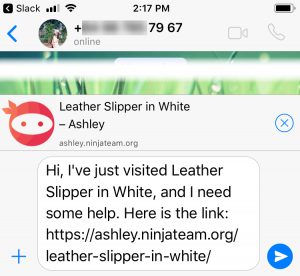 ---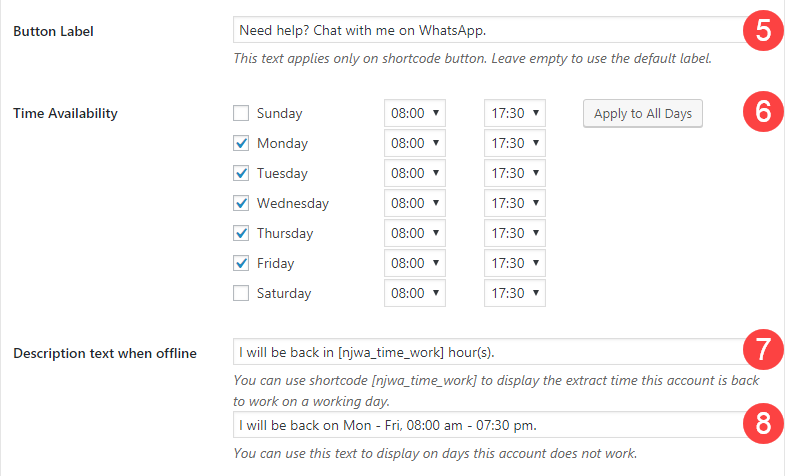 5. Button Label
The greeting text of their shortcode button, for example, Need help? Chat with me on WhatsApp.



6. Custom Availability
This is the working hours of the staff
7. Description Text When Offline (1)
On business days and before start times, this text is displayed as a countdown timer, for example, I will be back in 2 hours : 10 mins.


8. Description Text When Offline (2)
This text is displayed when it's after working hours of business days and on days off, for example, I will be back on Mon – Fri, 08:00 am – 07:30 pm.


9. Button Style
Here you can customize how the button looks. By default, in online status, the button has square borders, background color of WhatsApp green, and text color of white.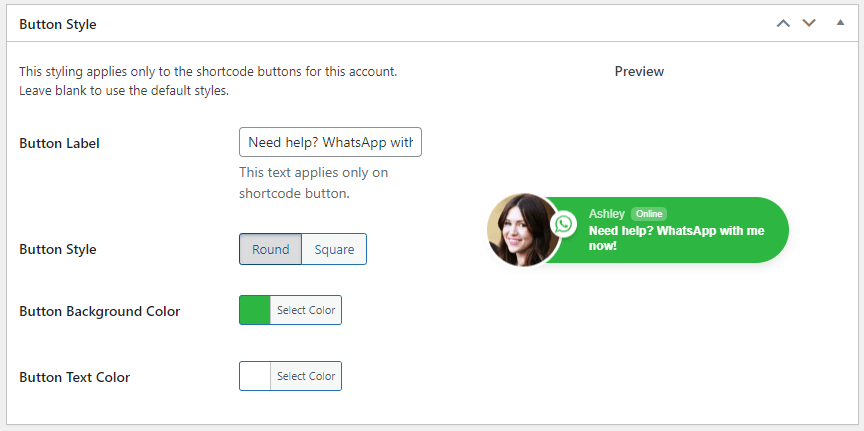 10. Avatar


Here you can set a profile picture for the account.
11. All accounts
Each account has its own shortcode that you can copy and paste anywhere on your site.

---
2. Floating Widget
1. Selected Accounts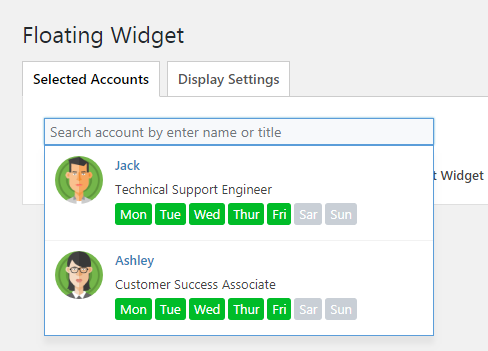 Click on the search bar, and all accounts will be listed there. Click to select an account.
2. Design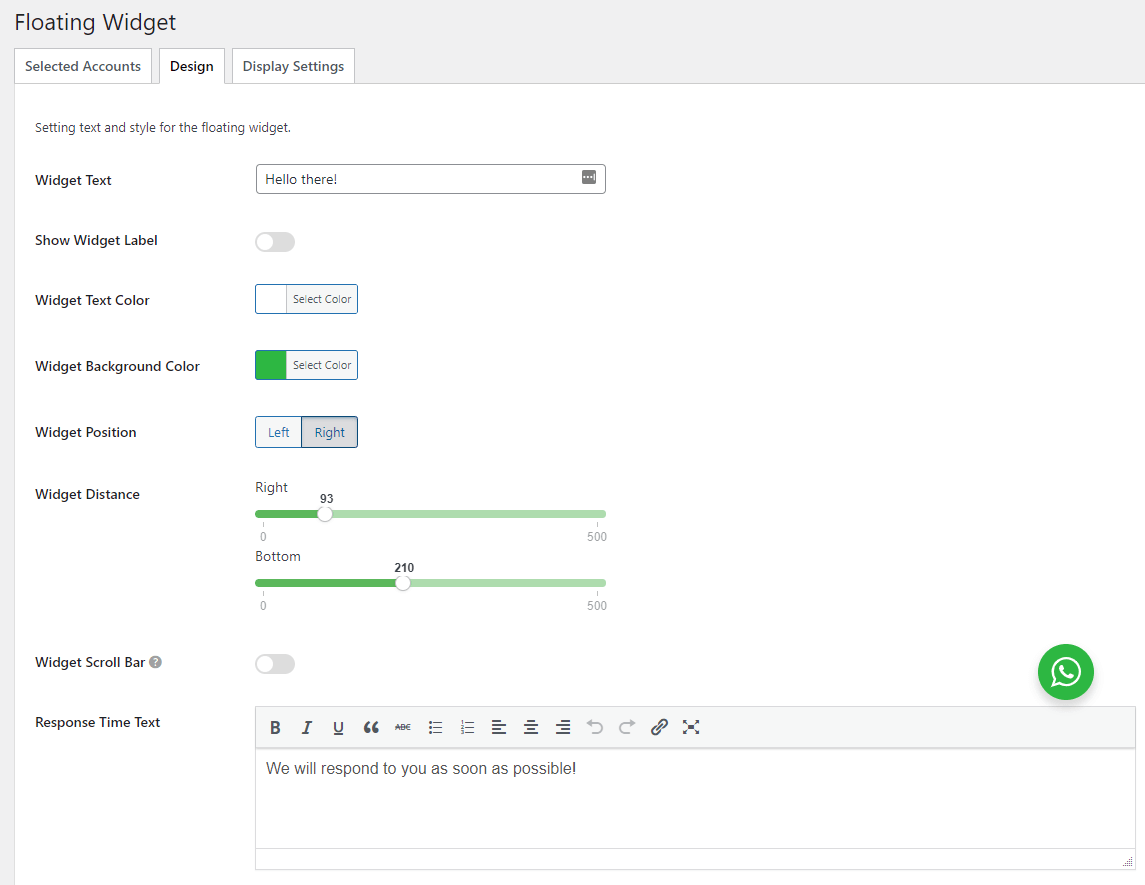 3. Display Settings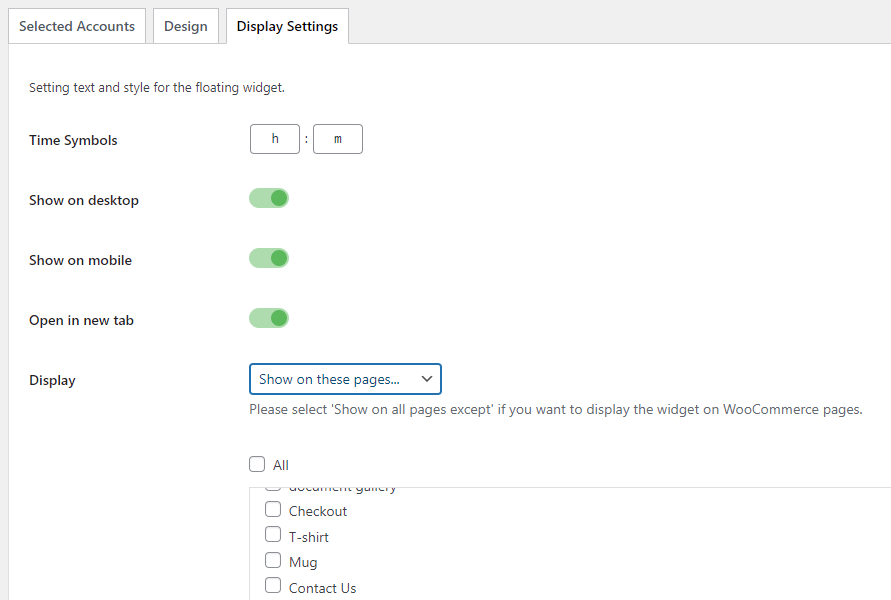 You can customize attributes of the floating widget here, including title, subtitle, colors, and position.
This is how it looks on the front end: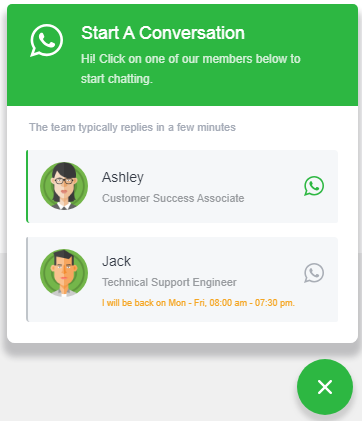 ---
3. WooCommerce Button settings
Here you can set accounts to display on WooCommerce product pages.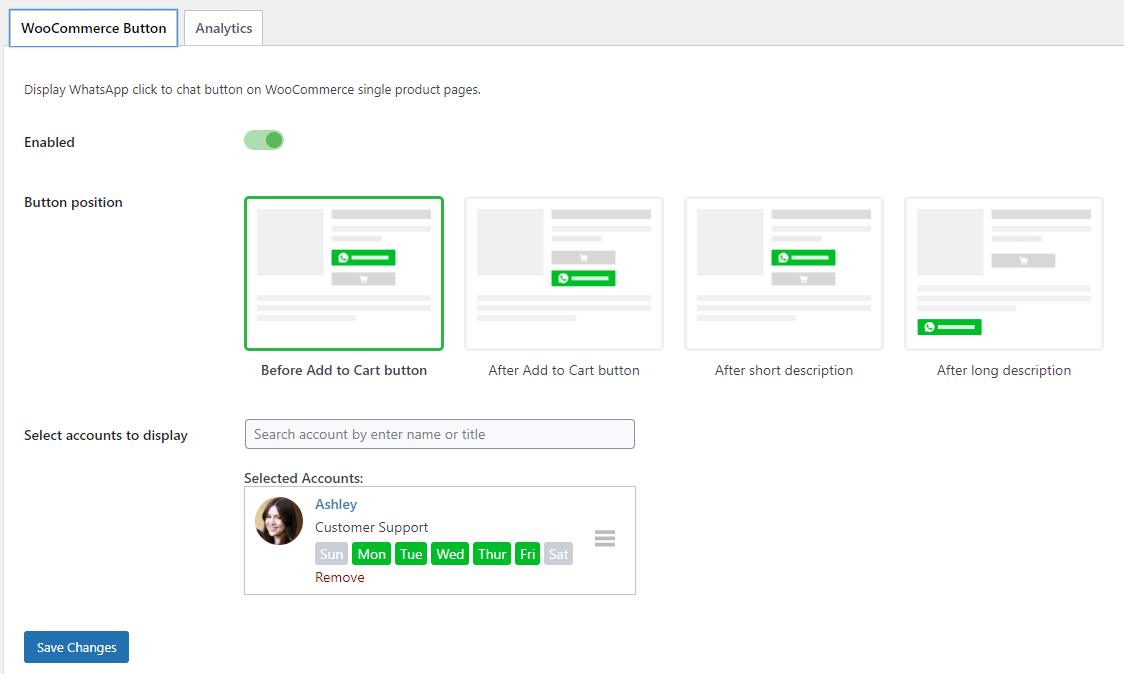 Below is how it's displayed on the front end.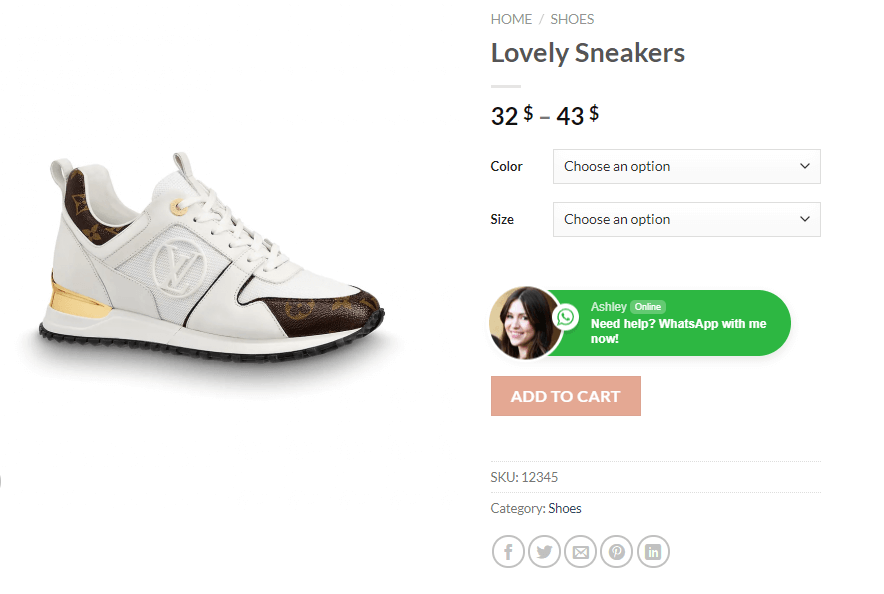 ---
4. Analytics
Prequisites: You need add Google Analytics Tracking code into your site first (the same with Facebook Pixel tracking code).
Then you can enable Google Analytics and Facebook Pixel tracking here, from the WhatsApp plugin menu > Settings > Analytics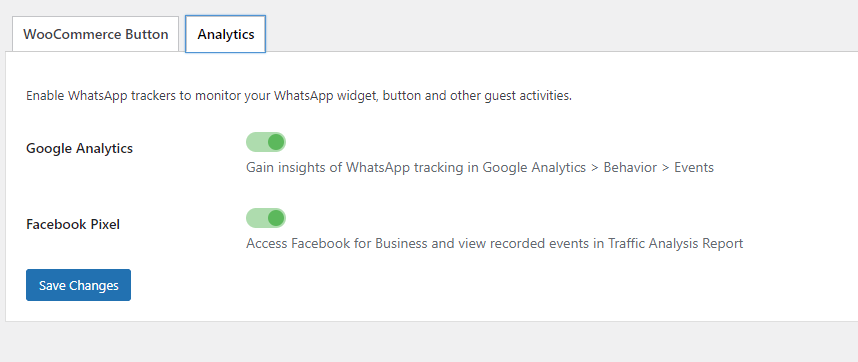 In the Google Analytics >  Engagement > Events, you can see how many clicks each agent has: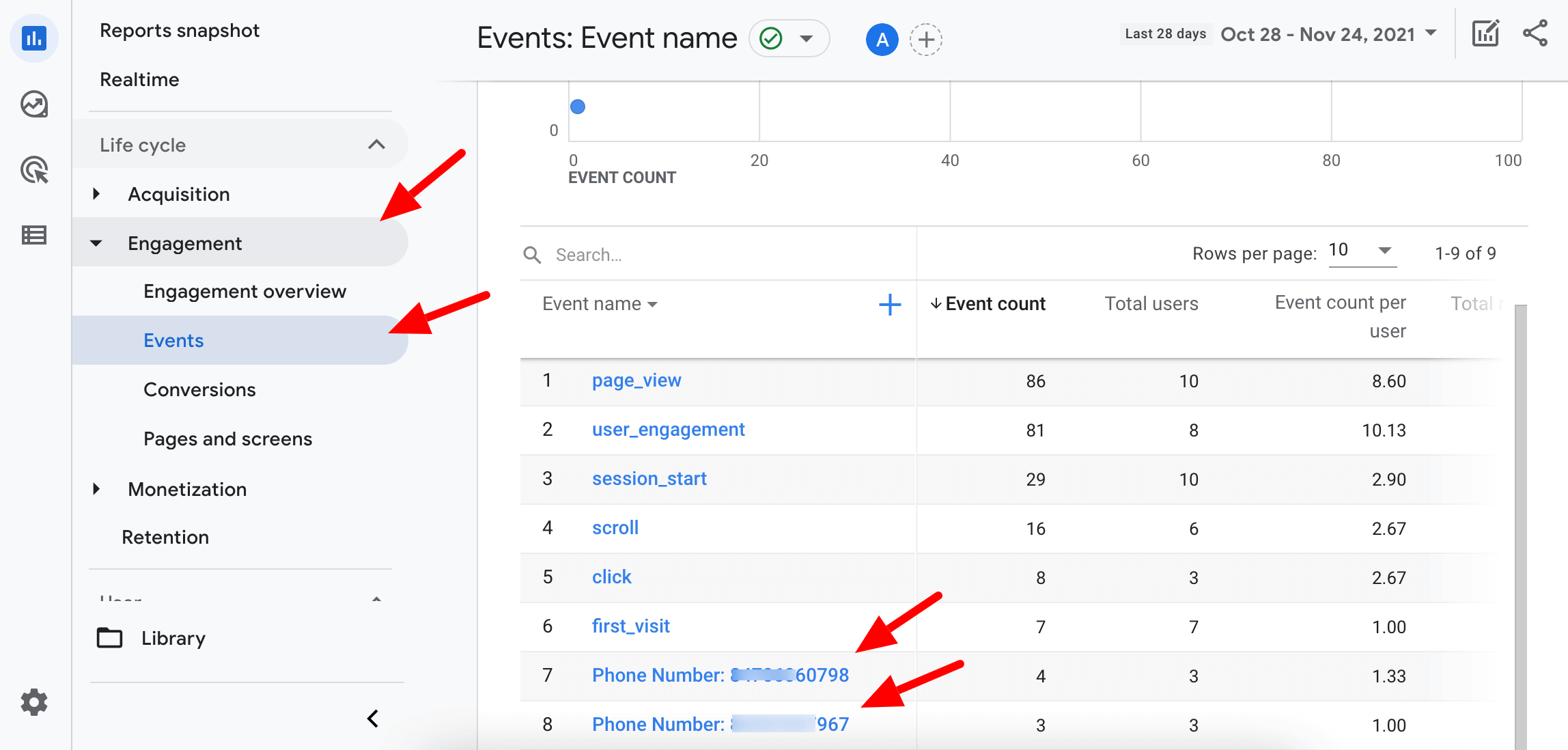 5. WPML Compatible
This is how to set different WhatsApp account appearing in the widget for different language in WPML
In the setting of WPML, choose option 1 or option 2 (don't choose option 3)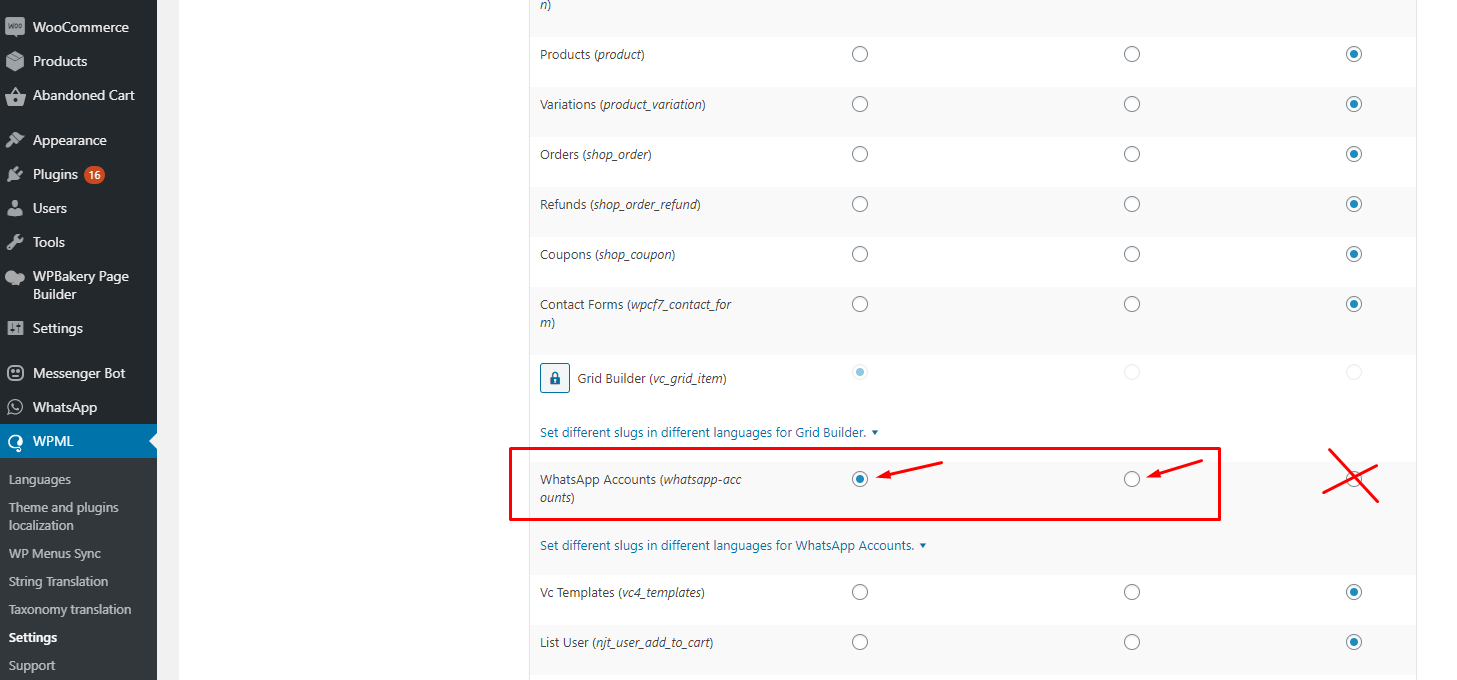 Then go to Floating Widget, choose account(s) for each language, switch to another language to add different account(s), and adjust text for each language.
DOCUMENTATION
https://ninjateam.org/wordpress-whatsapp-chat-tutorial/